FAI sponsored Team Aruba.it Celebrate Strong Start to 2018
Melandri pulls off a stunning double win at the Iconic Phillip Island course; making him the most successful Italian rider in WSBK History!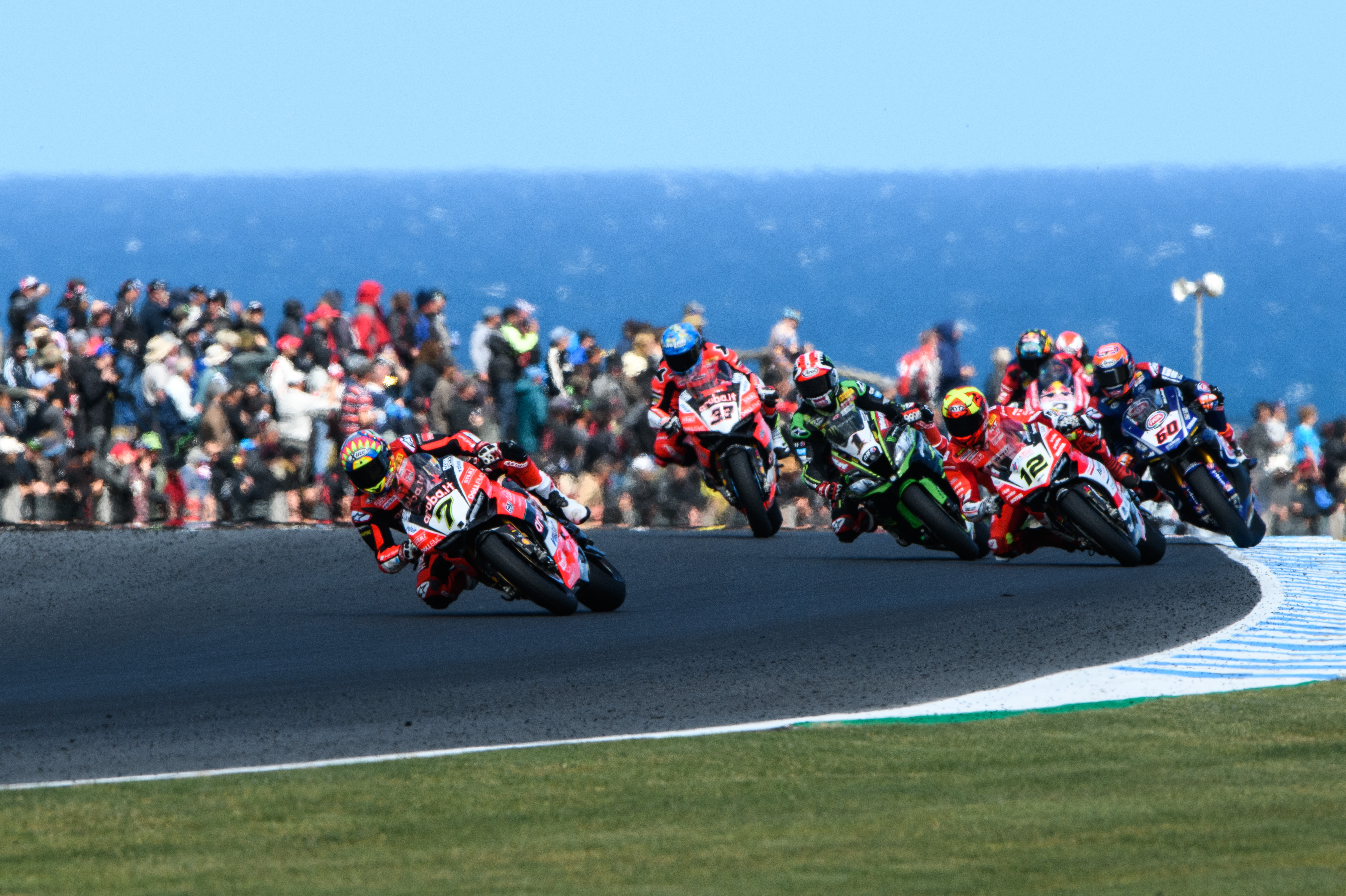 The 2018 season began with a new format for Fridays free practice which now consists of 3 x 40-minute sessions, the earliest of which were wet but with a rapidly drying surface, more race like conditions were provided. Although a dry forecast was given for race days the costal location would prove a little tricky with strong gusts of wind.
"Today was positive, despite the erratic weather. I like this track a lot, and it suits our bike. I feel in great shape and, together with the team, we worked with more ease, given the year of experience under our belts." - Marco
"Overall, it's been a positive day. The final lap times probably don't show the full picture here…FP3 wasn't too smooth, we had a couple of issues that kept us in the garage for a while, but we're going in the right direction. Also, physically we seemed to have turned a corner. We're probably better off in a race situation than what we are on the time sheets." - Chaz
Race 1:
After completing a morning practise and Superpole the Panigale Riders were more than ready to tackle the first race of 2018, starting at 3pm local time.
Chaz started at 5th on the grid and after some cat and mouse style riding managed to make a strong comeback, securing a 3rd place podium position.
Marco managed to secure the lead by lap 17, showing true grit, he defended his 1st position until the checkered flag.
"It's been a fantastic race. Sykes got off to a strong start and it wasn't easy to follow him and Rea early on. As the race went on, I managed to cut the gap. Once in the lead, it wasn't easy anyway because the wind gusts were even stronger. The last lap seemed to last forever, but we hung on and brought home the victory" - Marco
"I'm really happy with this result. It's been a tough winter, so it's great to start the season on the podium. The race itself was different than usual here, everybody pushed hard from the very beginning. I had a fun battle with Forés and I didn't expect Rea to have whatever problem he ran into and drop back, but I seized the opportunity when it came" - Chaz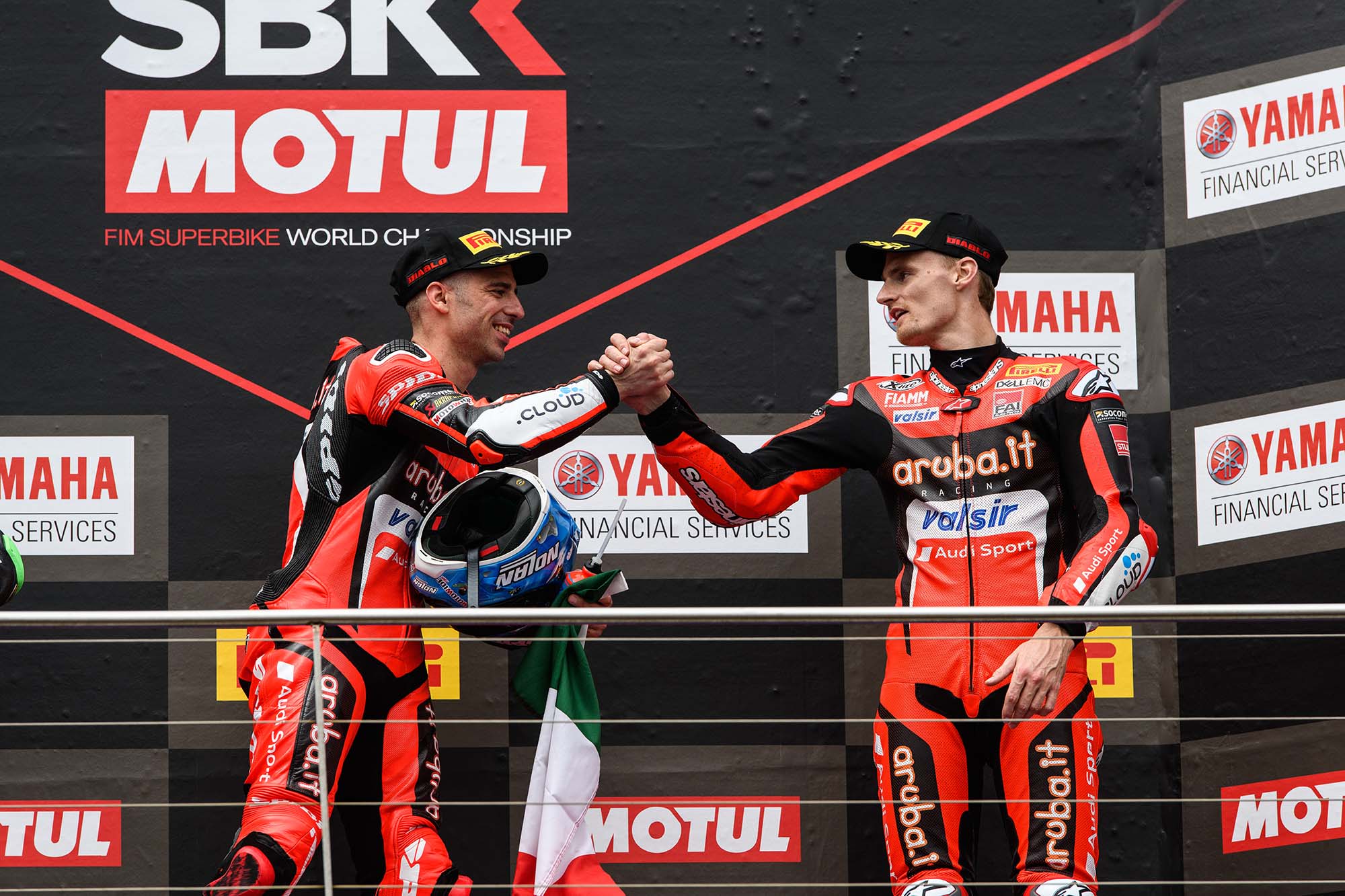 Race 2:
Marco Melandri, a veteran rider and the oldest contender on the line-up, had the closest win of his career with just 0.021 of a second between him and second place.
His 22nd win within the WSBK arena has propelled him into the history books as the most successful Italian competitor ever. Supported by a loyal fan base especially by fellow countrymen, he's done us all proud.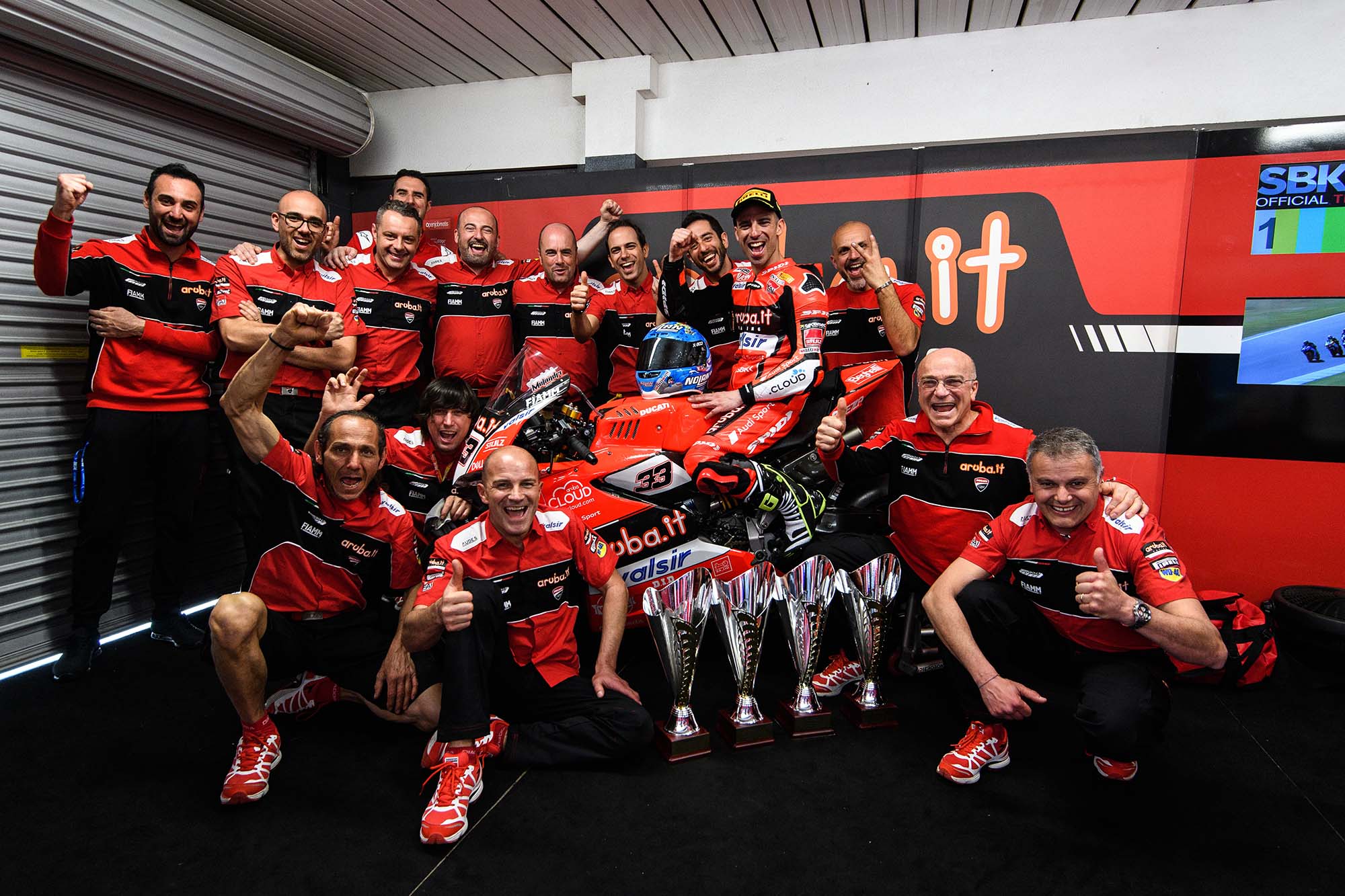 Davies started the race in his usual style and quickly worked his way to 1st position. After a quick change of tyres in the pits both he and Marco got back out there to take on the second half of the race when Chaz unfortunately crashed out on turn 9, lap 12.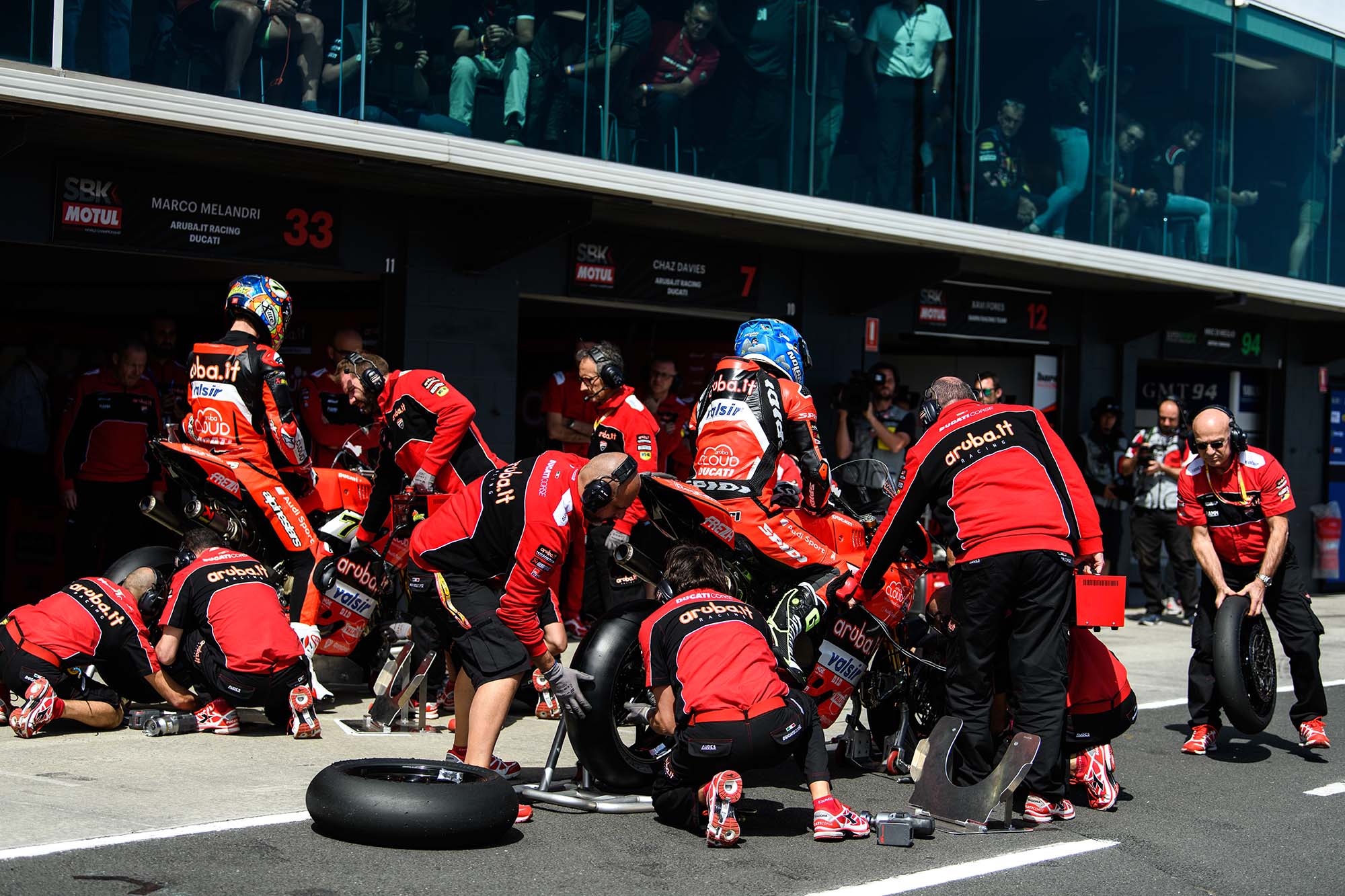 Onlookers hearts sank when it was confirmed Chaz was out of the race, especially as it was looking like another Aruba.it dominated podium.
"Honestly, I felt great and I thought we had some margin in the first half of the race. Then, after we changed tires, I still thought we could go for the win. I think it's the first time I've ever pushed so hard on a completely new tire, as we never leave the pits and go from zero to 100 percent like that, so maybe we took it just a bit too far and made a mistake even though it was quite late in the corner when I lost the front… We'll regroup and be ready to fight at Buriram." - Chaz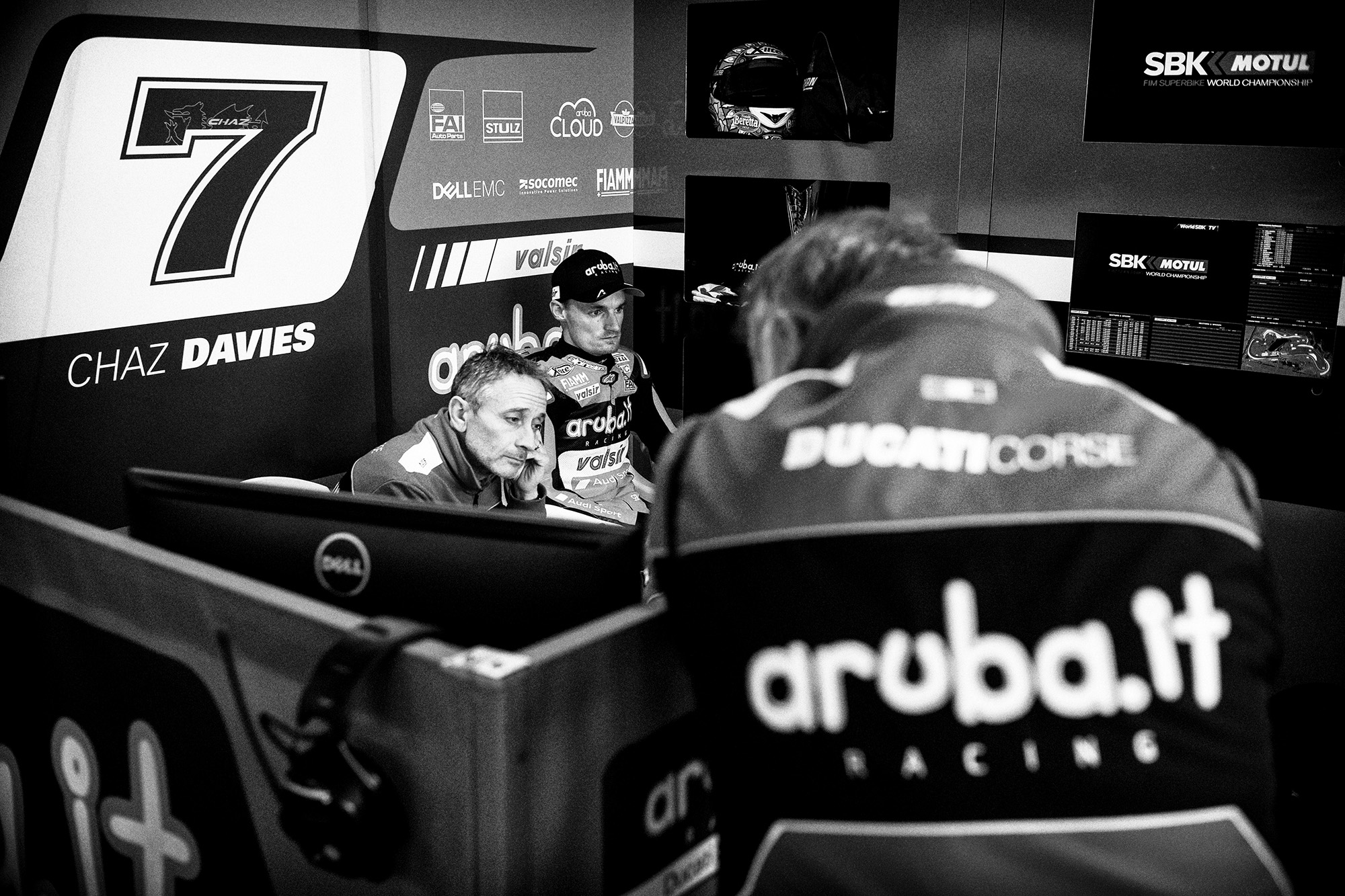 "It's been a crazy race… Towards the end, it was difficult to pass Rea under braking so I decided to focus on the final sprint and catch the slipstream out of the last corner, in which we were particularly fast, and the plan worked. I'm super happy and can't wait to race at Buriram." – Marco
Paul Magri (Nason Engine Parts) with Chaz Davies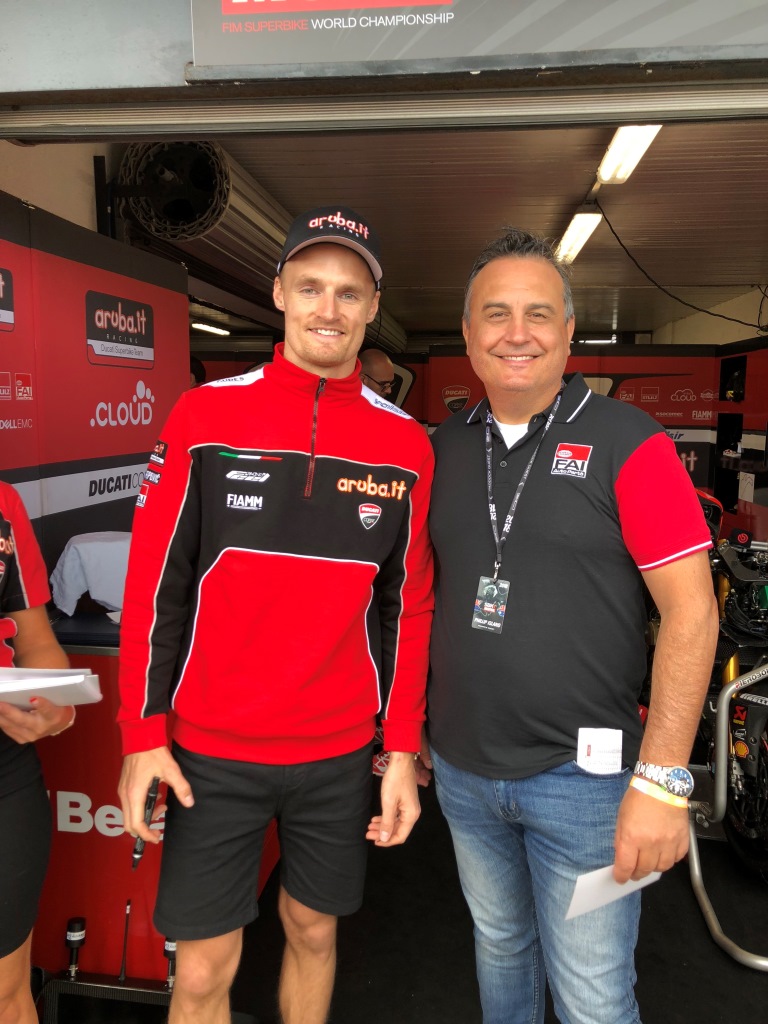 We'll have to wait a whole month before the excitement continues but rest assured we'll send a reminder and pre-race information for the second bout – Buriram, Thailand 23-25th March