Laguna Seca throws Ducati team a curveball : Round 9
The Laguna Seca Raceway, born from the road racing of Pebble Beach, has served the racing community since 1957.
This historic circuit played host to round 9 of the championship; a round where we would see fortunes reversed for our Ducati riders. Chaz Davies featured on the podium twice, while teammate Alvaro Bautista experienced his worst defeat so far this season.
The free practice sessions were encouraging for both riders with Chaz and Alvaro finishing 1st and 3rd respectively. Davies also posted the quickest time of the day with a 1.23.387; feats that Chaz chalked up-to the significant modifications to the Panigale V4 setup.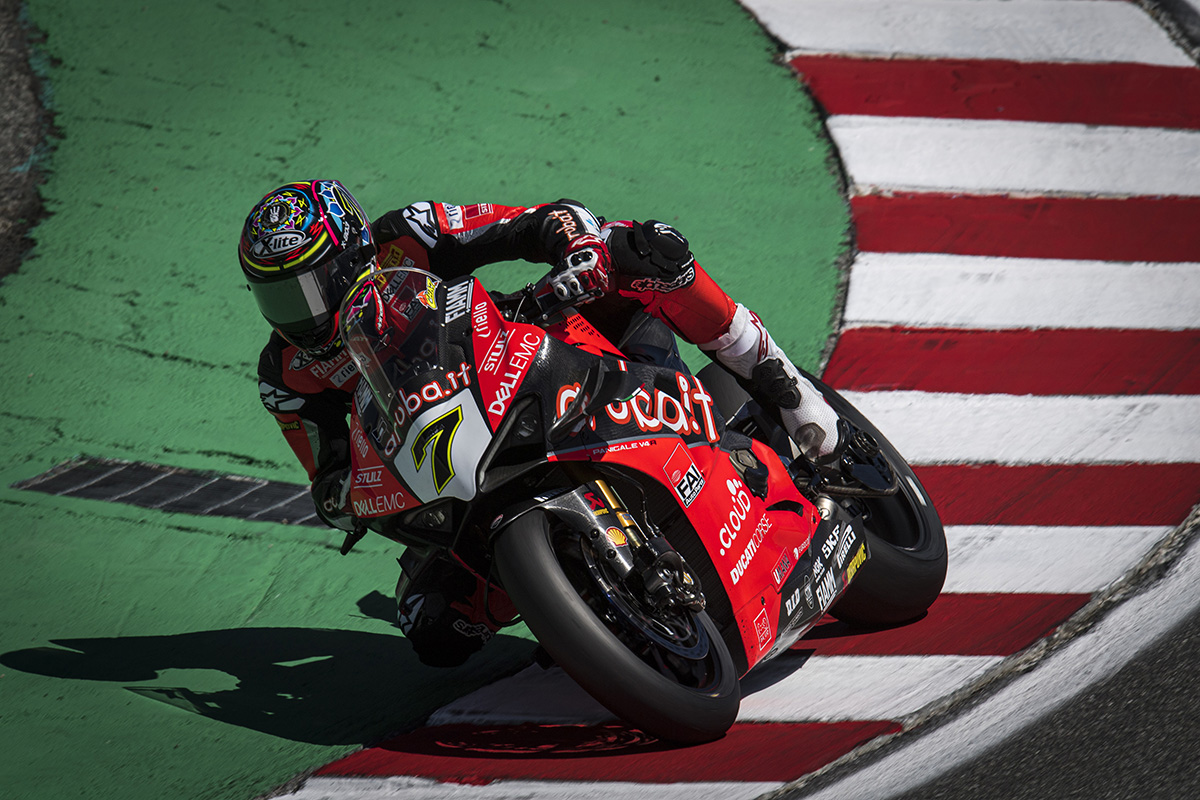 After a successful qualifying Superpole, both riders joined Kawasaki's Jonathan Rea on the first line of the grid for race one. Chaz chased the race leader (Rea) as hard as he could but to no avail, settling for a respectable 2nd place. A result that is made more difficult to achieve as the track features a series of troublesome turns, including one that requires contenders to manoeuvre an 18-metre drop in elevation; dubbed the 'cork-screw'.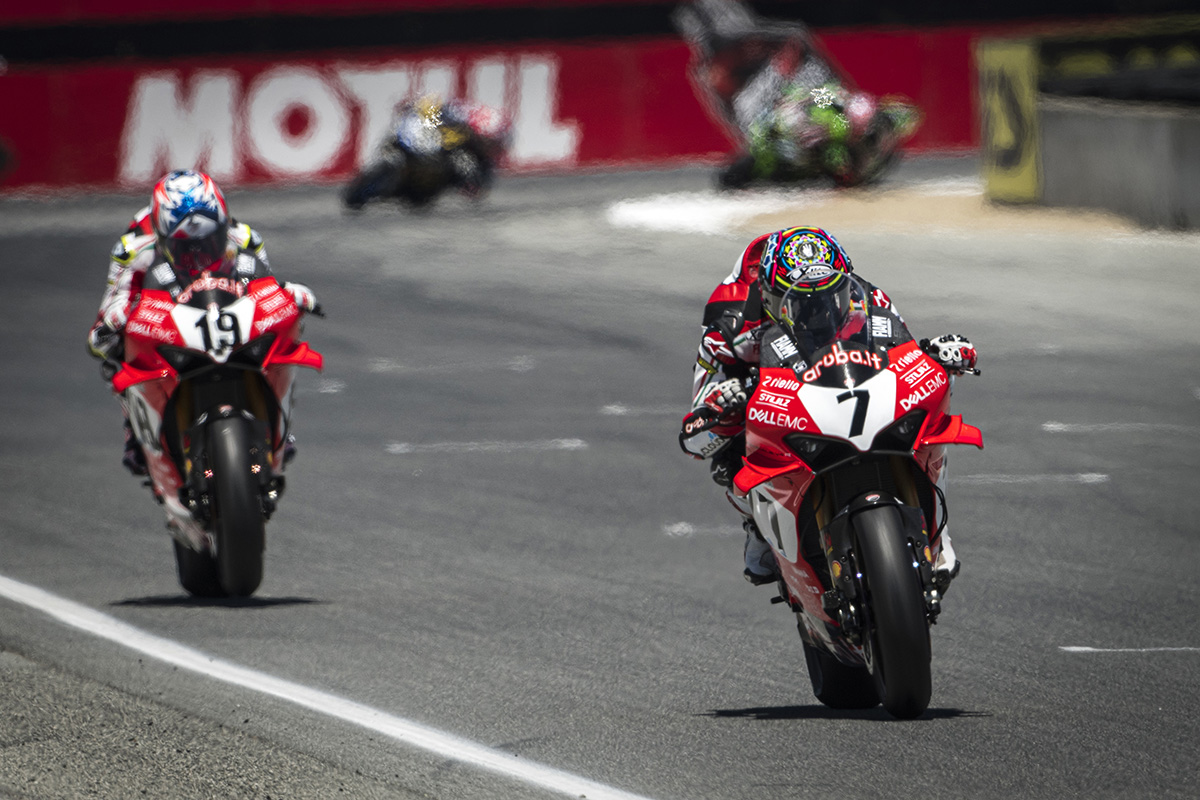 Alvaro got off to a good start, also chasing the lead rider when, during lap 5 he had a minor off. So minor in fact he got straight back into the race, however the damage was done, leaving him in 17th place.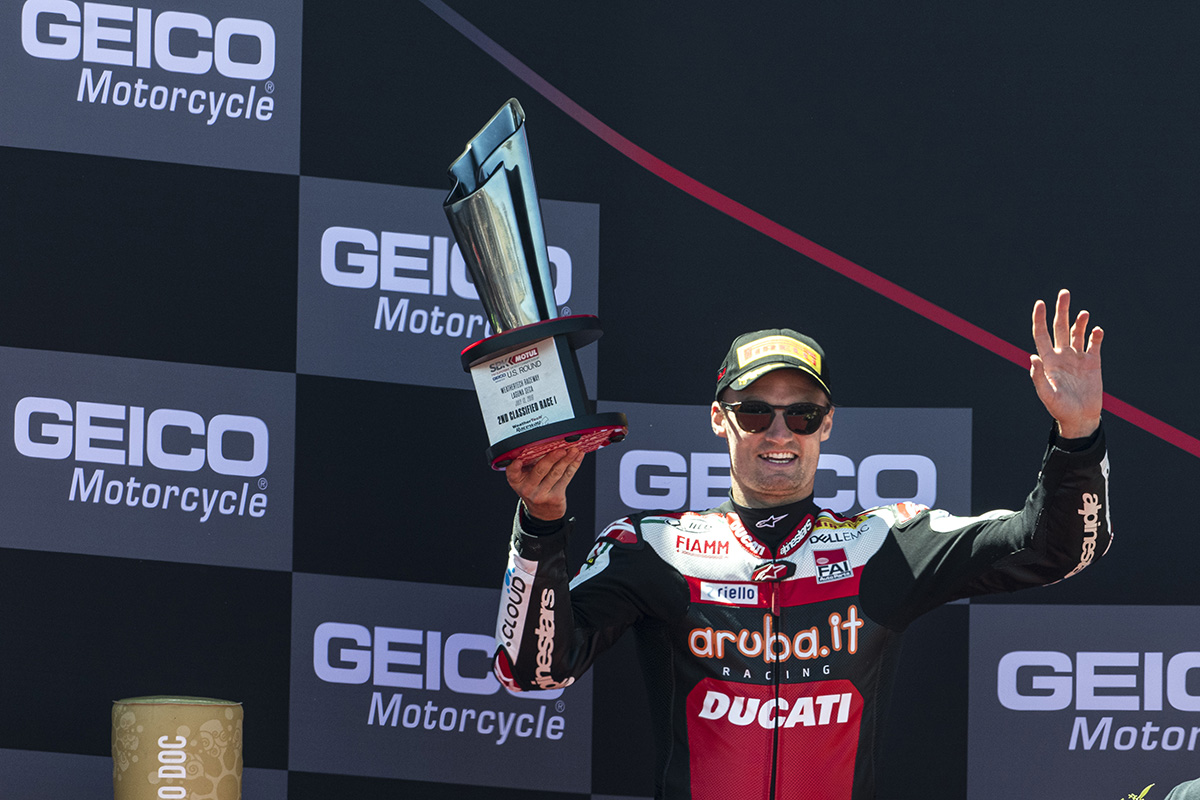 Roll on race two and Chaz's confidence carried over from Saturday's result coupled with improvement to hardware paved the way to victory. Dominating proceedings from the off, the Welshman scored his first win of 2019.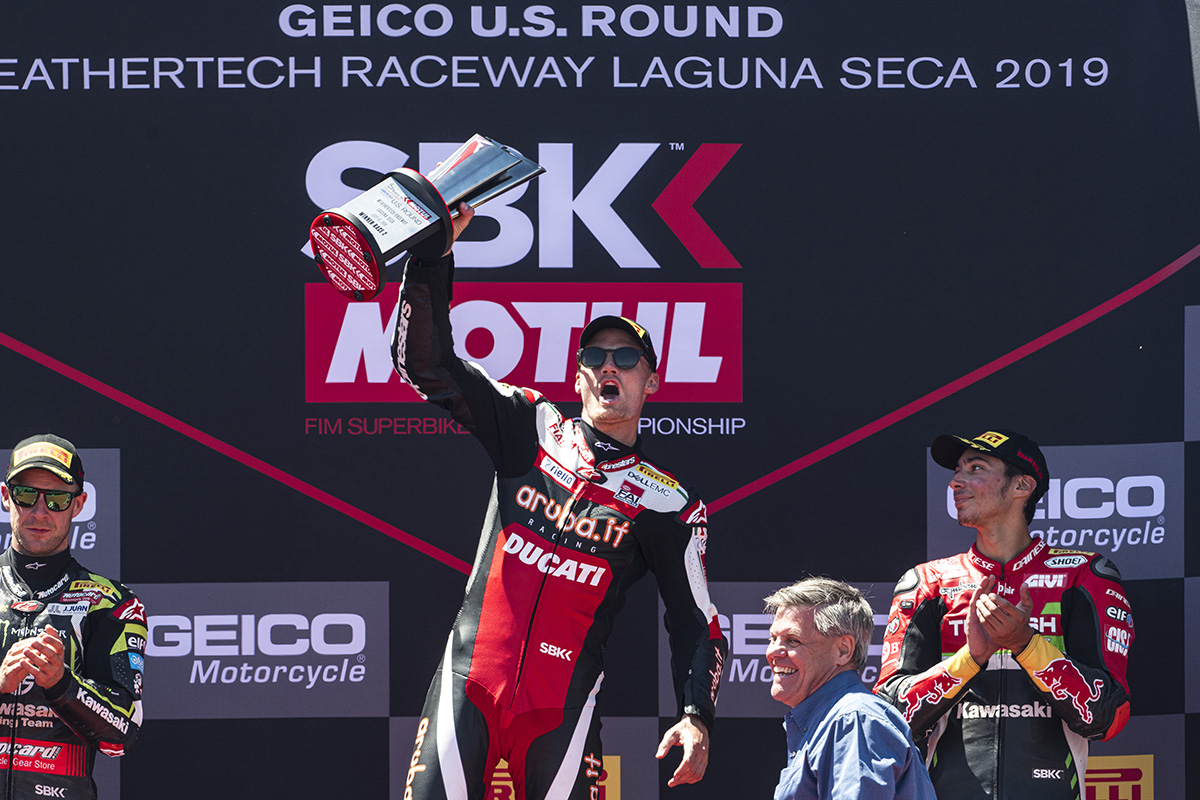 "This win really means a lot to me, because it's been a long hard season so far. The last time I won was almost a year and a half ago and it gets to a point where you wonder whether you can still win or not… To be honest, I wasn't sure I had the pace to win though, because Johnny's pace in race 1 was strong and consistent while I chose the wrong tyre. Even so I wasn't sure if this tyre would make the difference. I'm very happy and thrilled to get this result going into the summer break and we will all certainly celebrate tonight!" - Chaz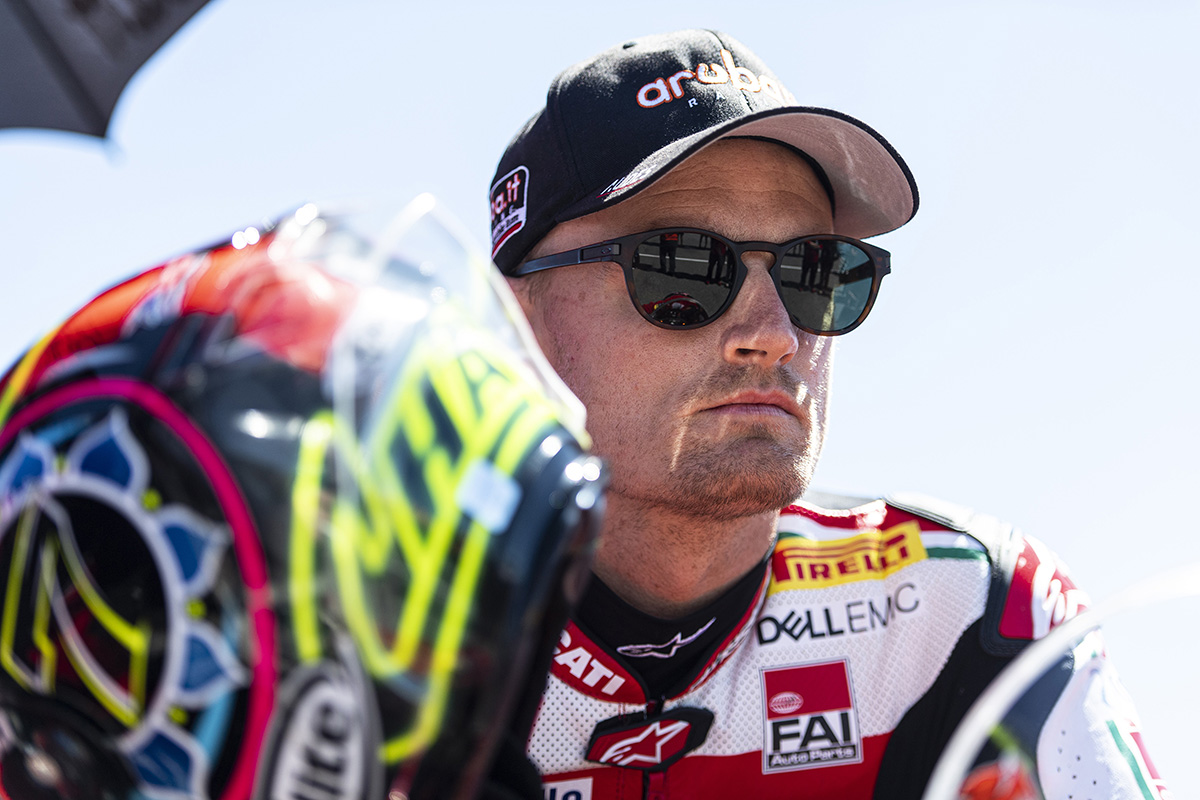 During Sunday's superpole Bautista yet again ran into trouble, this time literally, when a fellow rider cut into his path – resulting in an end to his weekend. He did attempt race two but realised within a few minutes that the injuries he incurred were more serious. This culmination of unfortunate events has left poor-old Alvaro with ligament damage and zero points from round nine.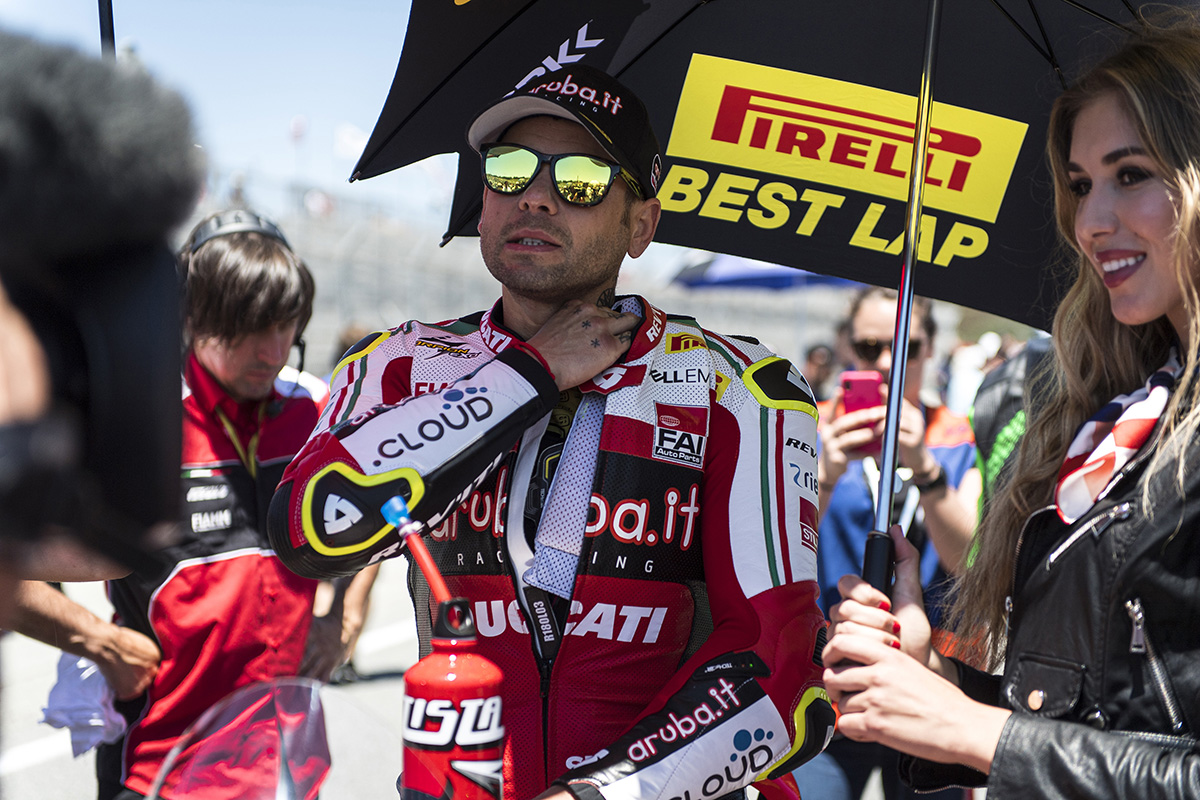 "I really feel bad about what happened today. At Turn 1 in the Superpole Race, Razgatlioglu completely closed my line and I couldn't do anything to prevent his rear wheel from hitting my front. His move ruined both of my races today because I injured my left shoulder in the crash. I was taken to the medical centre and after checks, I was given the OK by the doctors to try and take part in Race 2, seeing as the X-ray showed that nothing was broken. Unfortunately, after just one lap I realized that the pain was too much for me to ride because as I didn't have any strength in my left arm I wasn't able to brake in the left-handers, and for this reason I came into the pits… As soon as I get back home, I'll have more detailed checks done on my shoulder ligaments, but luckily two months' break before the next race will surely allow me to fully recover." - Alvaro
That's all the superbike action until the series resumes in September. Can Bautista pull back his position of 1st? Has Chaz turned a corner with his new bike setup? We can't wait!